OMAS LACQUER PENS
Omas' attempts to gain a place on the scene of lacquered pens.
In 1996 Omas gave shape of a project aiming at the creation of a connection between writing instruments and the arts. In the frame of this project, the French artist Josiane Monrosty was commissioned by Omas with the creation of a series of fountain pens enriched with Chinese lacquer decoration.
The French artist, who studied the art of lacquer in Japan with the master Mizu Uohi Sen, developed 5 different patterns of decoration using various  Maki-e techniques. She used very unusual materials for some of her decorations, like snake skin, meteorite dust and gold dust. The decorations were then applied onto a series of Omas Ogiva in precious wood.
The number of pieces produced was very very low, from only 5 to a maximun 10 for each pattern of decoration.All the pens by Josiane Monrosty are signed with the initials of the artist.
Above: one of Josiane Monrosty's creations, produced in only 5 pieces.
Below: Omas extra Ogivas with lacquered decoration by Josiane Monrosty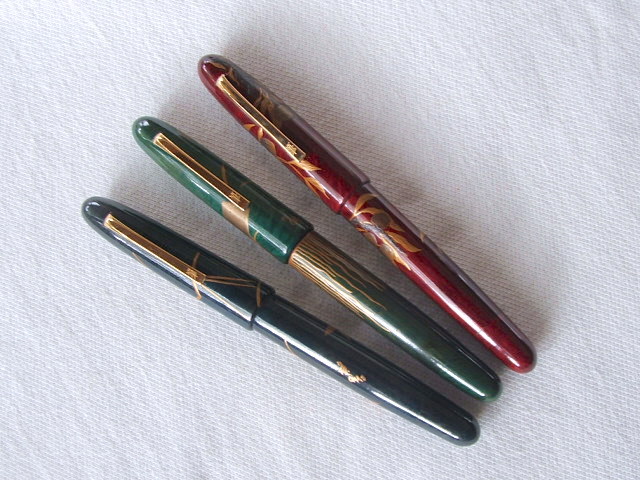 These extremely rare and precious pens were not the only example made by Omas to create a series of lacquered pens; other attempts were made to develop a line of pens with Maki-e decoration.
A limited series of wood ogivas in green yellow, blue and red with lacquer decoration was marketed, these pens were meant to pave the way for the marketing of the new collection named  " Contemporary Painting". The success of this   series of ogivas  was very limited and these pens are nowadays very hard to find as well as the pens being part of the "Contemporary Painting" collection.
All the pens of these series are signed by Josiane Monrosty.
below: a Contemporay painting Ogiva in green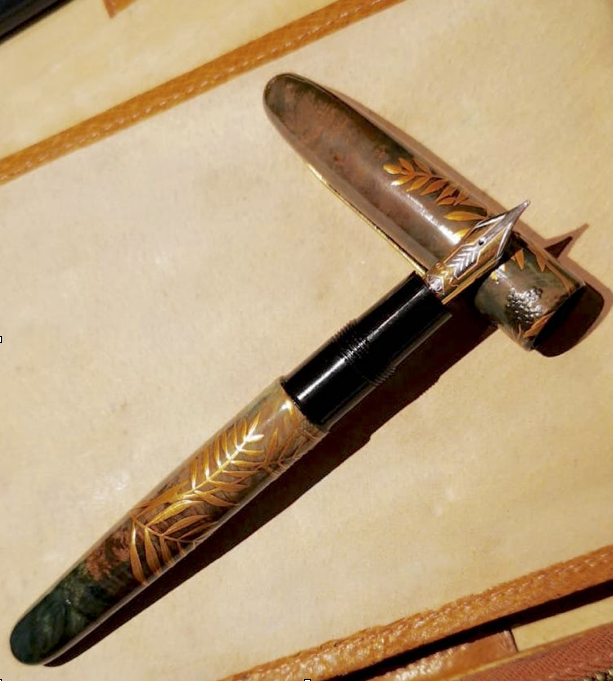 These ogivas and Josiane Monrosty's pens are not the only example of Chinese lacquer on Omas pens. The most widely known of them is the "Gold brush" limited edition, produced for the Asian market only.
Omas Gold Brush models were made both in blue urushi and black urushi lacquer with gold brushes and in black with gold dust. Fountain pens, ball pens and rollerball pens were produced.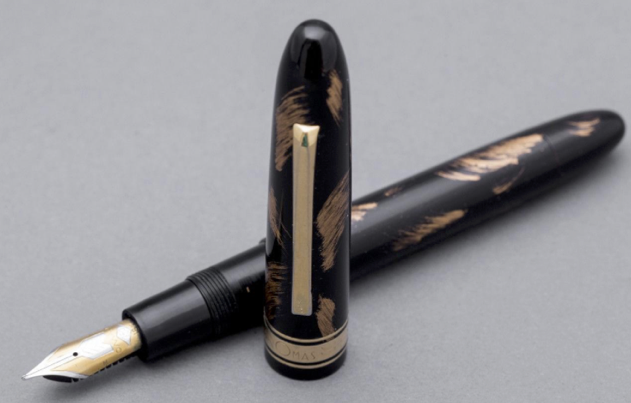 In the early 2000s Omas reintroduced lacquer decoration on a series of Ogiva writing instruments ( fountain pen, rollerball, pencil and ball pen were produced). These ogivas are decorated with urushi lacquer and were manufactured in green, blue and red which blend into black on the ends of the pens.
Unfortuntately the line was not extremely successful, probably due to the high retail price and these pens are nowadays very scarce. 
Credits:
Tom Westerich
Jack Leone
Private collection