Omas Armando Simoni Collectors' Club Nr. 1
The 90's could be defined as "pen roaring" years in Italy.
From the late 1980's to the mid 1990's the economy was booming and people seemed to be full of trust and entrepreneurial enthusiasm.
At the time, lots of people started considering pens as a profitable investment. It is not by chance that almost every pen maker started producing limited editions to stimulate the growing trend towards "rare" and expensive pens.
The first and most successful Montblanc limited editions such as Lorenzo il Magnifico and Hemingway were produced in these years, too, testifying that the same phenomenon was taking place all over the word as well.
In Italy we had a flourishing group of newly-born pen makers who offered limited editions and special editions: Stipula, Visconti, Marlen, Delta, Ferrari da Varese, Tibaldi… beyond the long-standing pen makers such as Aurora, Omas and Montegrappa.
They all offered standard everyday pens and elaborate limited editions, within an overwhelming wave of  creativity, craftsmanship and innovative marketing strategies…
At the same time, the interest for vintage pens grew, new pen books and pen magazines were published.
All this pen collecting enthusiasm could not go unnoticed for Omas, too.
The Malaguti family was still leading the company and they had a very strong awareness of their brand's history and relevance on the market.
They founded a collectors' Club dedicated to Mr. Armando Simoni and decided to give birth to a publication which was meant to celebrate Italian fountain pens, with particular attention to Omas history and other Bologna-based pen makers. They were also able to create a kind of cooperating relationship with the Bologna University, thus gaining a cultural support for their initiative.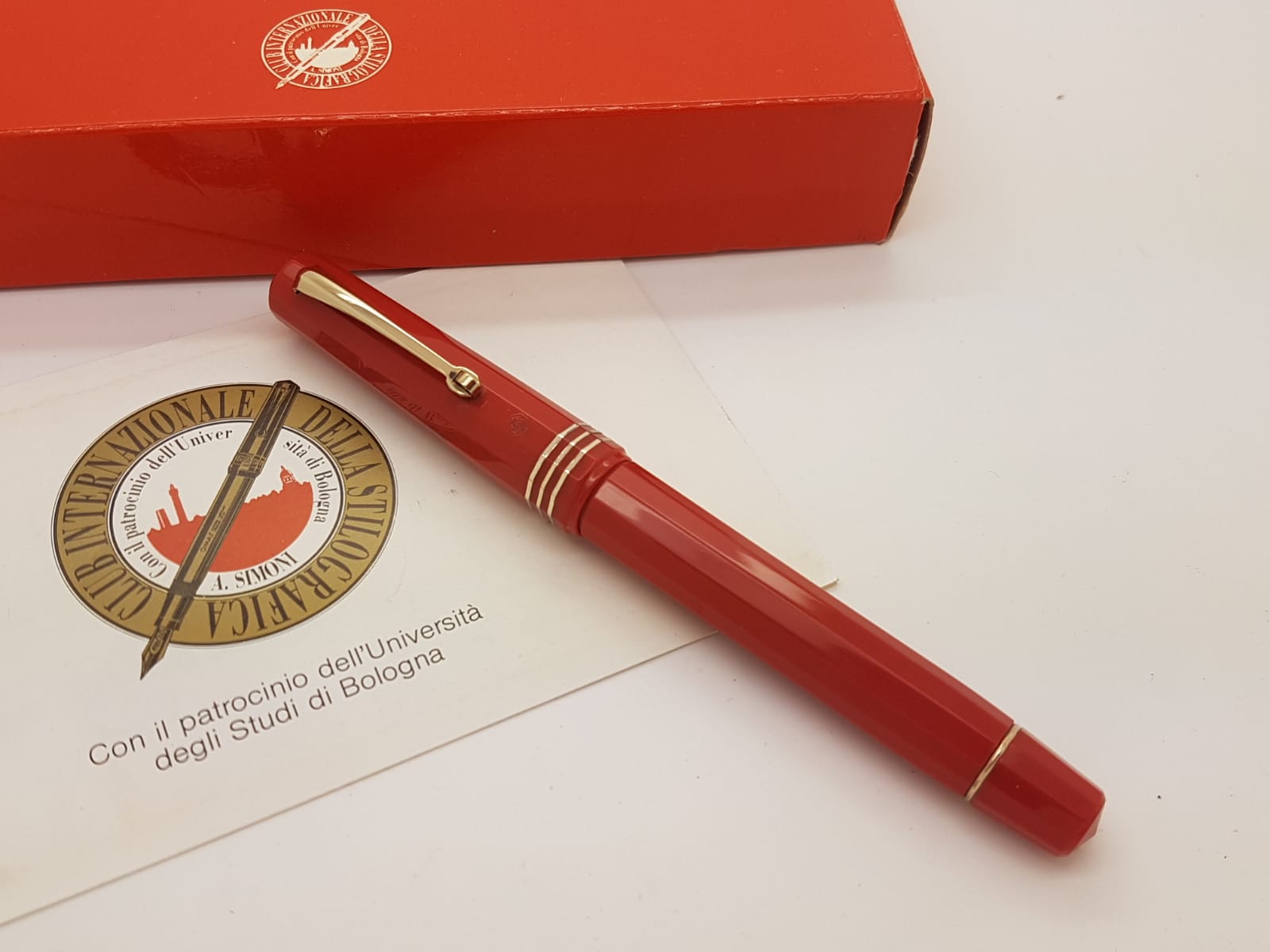 All this aimed at creating a sort of privileged group of collectors who deserved special attention and could have access to special pens which were not for everybody. Members of the Armando Simoni Cub had access every year to a special Omas limited edition which could not be found in shops but only bought though the Club.
It was a selective concept, as the Club's yearly fees was rather expensive in comparison to other Collectors' Clubs in Italy and Europe. The cost of the fee was justifed by the fact that it offered access to pens which could not be had otherwise.
The first pen to be offered to Clubs' members was an Omas Extra Piston filler, the size of a Milord, in brick red resin. Each pen was numbered according to the Member's Club's enrollment number.
The packaging comprised an outer box in brick red cardboard with the Club's headings, an instruction leaflet with the Club's logo and a special booklet in real leather with the Member's name and date stickers referring to each year of Membership.
The pen in itself was not extremely beautiful but it soon became a kind of symbol. Owning that pen meant to be part of a selected group of collectors who could have pens which nobody else could ever get.
The Armando Simon Cub lasted for a few more years ad another few limited/selective pens were produced but none of them ever achieved the first Club's pen powerful charme and evocative power.
Nowadays these pens can be found as pre-owned  collectibles and are becoming more and more desirable for Omas collectors, not specifically for their aesthetic qualities  but above all for their relevance in the Company's history.
In the last pictures the leather bound "personal document" each member had. The registration number in the document corresponded to the serial number each member had on the Club's special edition pens he could acquire from the Club.