MONTBLANC "FABBRICATO IN GERMANIA"... WHY AND WHERE
A few German models are typical of the Italian market only; a few others are marked "Fabbricato in Germania" on the cap and are identical to their German counterparts. Here is an attempt to better understand this interesting chapter of Montblanc's production
The reasons why Montblanc pens for the Italian market have the "Fabbricata in Germania" engraving on the caps have been widely investigated but no reliable answer has been found so far.
It is however very likely that these engravings are deeply connected to political circumstances which affected Italy's history in  the 1930s.
Montblanc and Simplo pens were distributed in Italy as early as the first decade of the XX century.
Originally the official distributor was Mr. Sensenhauer whose company was based in Milan. Later on the Agency was handed over to Mr Kessel, who registered a number of trademarks next to Montblanc: Rouge et Noir, Reflex, Astoria and Monte Rosa.
In the early 1930's Italy's economy was going through a deep  stagnation and still felt the severe consequences of the 1929 crisis. Italy's Fascist Government had given shape to the self-sufficency propaganda to stimulate the  growth of internal production and to reduce imports from foreign countries as much as possible.
The perspective of a war economy were becoming more and more realistic and the intention was to set Italy free from any economic dependence which was however very hard to achieve.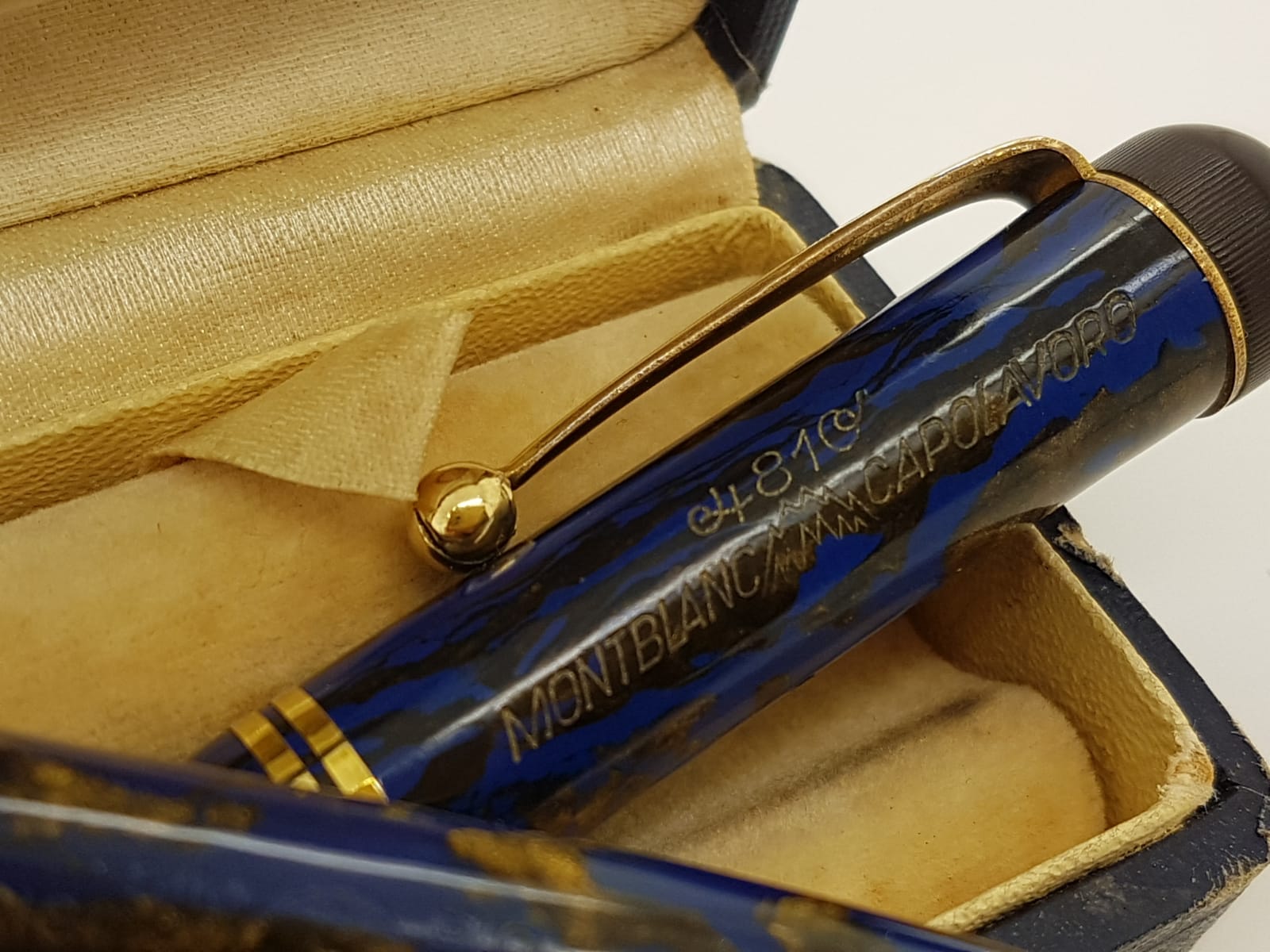 In October 1935, Italy invaded Ethiopia; as a consequence, the League of Nations imposed an embargo on Italy. All the member countries were forbidden from giving credits, making loans and exporting into Italy any kind of goods which could be of help during the Abyssinian war.
Germany was not part of  the League of Nations so that its  already existing economic and political bonds with Italy became even stronger.
Montblanc pens could therefore keep on being imported in Italy.
The engraving "Fabbricata in Germania" could be part of this historical scene.
The engraving was meant to demonstrate that these pens were not outlaws and were the proof of an economic and political cooperation.The "Fabbricata in Germania" Montblancs" are 100% German products and there is no technical nor aesthetic difference between them and the pens which can be found on the German market.
To encounter substantial differences between German and Italian Montblancs,  we must wait for the 13X series with flat  cap top which are probably part of a later production.
Here again the connection with the historical scene offers interesting hints to understand these pens.
Italy's self sufficiency policy was gradually strengthened; in his 1936 speech in front of the National Assembly of Corporations, Mussolini  stated  that the self -sufficiency policy was no longer to be intended as a reaction to the embargo but as choice to have a stronger economy and thus a more powerful nation.
From that point on, no foreign goods were allowed in any way. This gave rise to a deep transformation of the Italian economic structure. At the same time the bonds with Germany became stronger and stronger, to reach the peak with the Steel Pact in 1939.
The production of the Italian Montblancs with "Fabbricata in Germania" on the cap, is therefore to be placed in these years.
While the Italian Montblanc agent had been able to import German Montblanc pens till then, at this point he had to organize a production facility to have them manufactured in Italy.
Where this facility was located, is still an unanswered question but it is evident that the PL button fillers were not manufactured in Hamburg and represent a totally Italian production.These pens  (sorry no picture available) were manufactured in Pl celluloid, sizes were indicated with #2 or #4 and were marketed with Italian nibs which showed the diamond  outline with the " 585" inside, to indicate 14 ct gold. This places them in the second half of the1930's.
The shape and line of these nibs (which are very rare) suggest that they may have been produced in Bologna by Cecchini and Verlicchi's Company ( Rover) and there are theories which suggest that the production of these pens was somewhat connected with the activity of the Bologna-based Tabo Company. Unfortunately there is no documentary evidence of this theory and we have to stick to what we know for sure.
The last point about Italian Montblancs refers to the flat star-less cap top which differentiates them from the German standard production.
One theory is that standard caps were from an early time when the immediate identification with products from Hamburg was not a problem. Later on, flat cap tops may have been adopted to "hide" the real origin of the pens and give them a different, more Italian  look, while the organization of an Italian plant was taking place.
Another theory is that flat top caps may have been requested specifically by the Italian Agent to better suit the taste of the Italian market and then remained as a distinctive feature of the Italian Montblanc products.
Further investigation and a bit of good luck, will be needed before we know where the truth lies about this interesting chapter of pen history.
Credits:
Lin Hung Chih, Edoardo Marino.
Sources of information: Personal collection, Italian State Archive, Montblanc price lists.