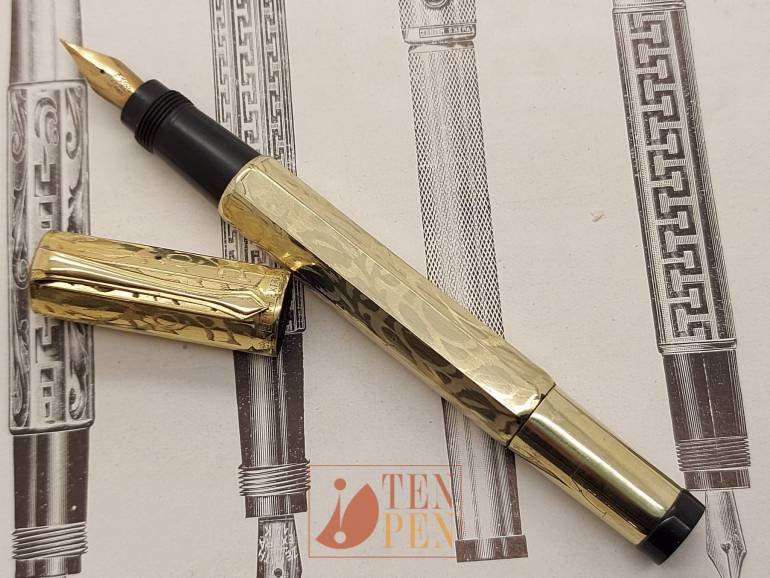 The development and history of the Zenith brand is connected to the activity of Mr. Morandino Giuseppe who was active in Milan in the field of writing instruments from the late 1920's till the late 1950s.
Zenith models exist both as celluloid lever and button fillers as well as safety pens with rolled gold overlay.
The varying features of the celluloid models suggests a production on commission which can be related mostly to Montegrappa. As a whole, Zenith pens of the 1930's and 1940's are very nice writing instruments, produced in beautiful celluloids with quality finish and Zenith 14 ct gold nibs.
Later products are mainly school pens with nice overlays but very cheap components.
Safeties with overlay are of very good quality, and can be found either with Zenith ball ended clips or with Art Deco geometric clips.
During the 1930's and 1940's Zenith pens were marketed through mail catalogues and sold throrugh a number of retailers mainly in the North of Italy.
This  1930's Zenith safety pen is in excellent condition. The facetted Art Deco Overlay  shows a floral shiny/matte decoration.
The pen is fitted with its original 14 ct gold Zenith nib and comes with its original presentation box.
The "Zenith Extra" engraving is on the cap lip along with the typical triangular Morandino hallmark.