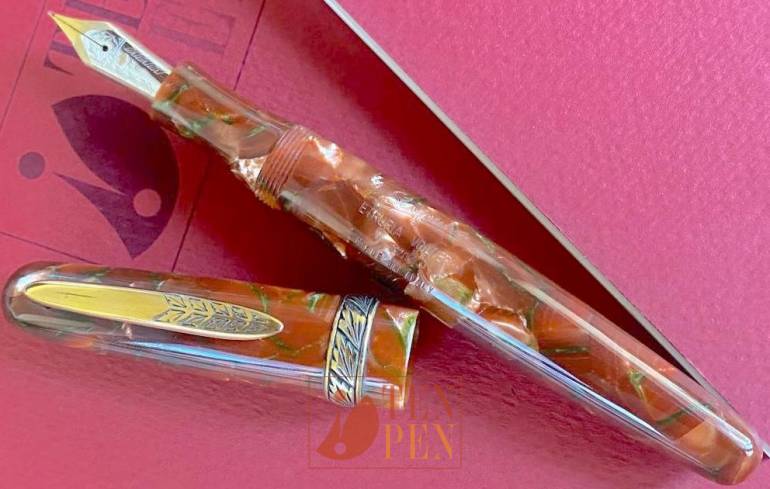 Stipula was founded in 1973 in Florence by Mr. Renzo Salvadori, a talented craftsman who had a passion for writing instruments.
It was initially an experimental family business that gained momentum and soon placed itself among the best Italian pen companies.
In the 1990s Stipula manufactured some of its most beautiful and appreciated models as well as several refined limited editions which are nowadays highly collectible.
The florentine background, rich with silversmiths and jewelers is always present in most of Stipula's productions which very often sport solid silver details, cabochon stones and in some cases beautifully high relief overlays.
In the 1900s Stipula also manufactured pens on commission for several Italian brands such as Gucci, Pineider and Tibaldi, just to mention a few.
Stipula's most appreciated creation was the Etruria fountain pen which was manufactured in several versions, both as piston filler and as converter/cartridge filler, in celluloid and acrylic.
Etruria's main features have remained unchanged over the years, with a typical high relief cap band ( which can be silver, vermeil, or solid gold, too) decorated with leaves as well as the clip with a typical design and the outline of small leaves, too.
1990's Etruria models can be found either with gold, steel or titanium nibs, according to the line of production.
The name Etruria is the ancient name of the Etruscan Area (in central Tuscany) where the Etruscan population thrived since the Villanovian period (ninth century B.C.). The Etruscans developed their civilization and culture in the area stretching between the Arno and the Tevere river with a complex political structure centered on a city-state network with a very rigid hierarchy.
Their influence and contribution to the Roman culture was immense.
The reference to the Etruscan represents Stipula's choice to celebrate its Tuscan origins and its deep connection with the territory and its culture.
The Etruria Volterra is an outstanding example of this intention.
Volterra was in fact one of the twelve dominating city-states which run the Etruscan community.Volterra has in addition been one of the most important Tuscan cities in the Middle Ages and the Renaissance.
This limited edition is manufactured in precious pearlescent burgundy celluloid with green strikes with a vermeil finish. This same precious celluloid was used in the 1990s to manufacture the Tibaldi 50 and 60 line.
The Stipula Volterra limited edition comprises only 193 pieces and it is fitted with a two-tone 18 ct gold nib. The pen is a converter/cartridge filler.
This Stipula Volterra  is nr. 092 and its nib is  F.