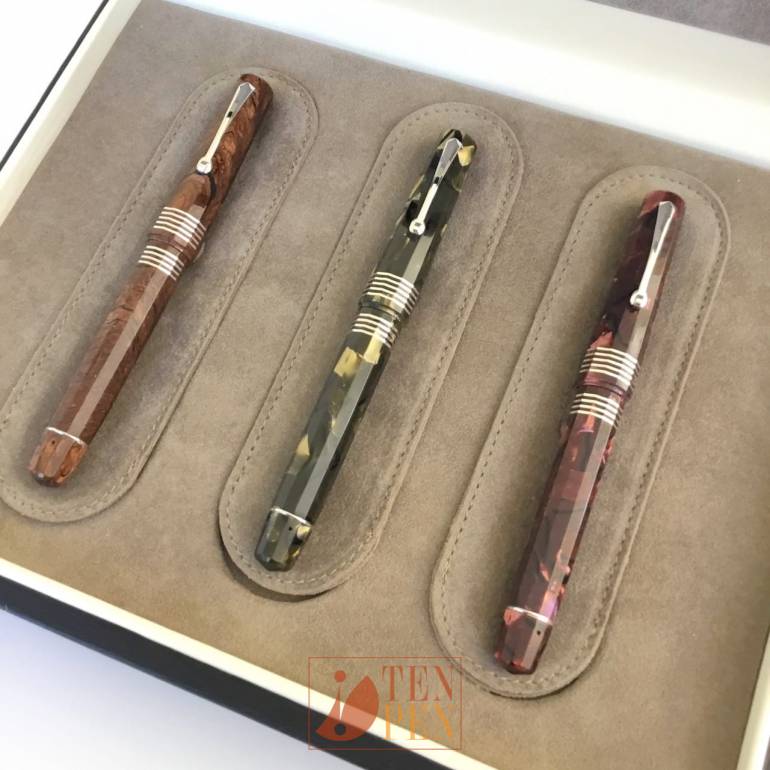 In 2015 Omas celebrated its 90th anniversary of activity.
To commemorate 90 years of innovation, creativity and success in the world of penmaking, the Company issued two special limited editions, each composed of three special pieces.
One limited edition was dedicated to Omas' innovation in design and comprised three pens with different shapes, each symbolizing the succes of Omas' most famous models; the Paragon, the 360 and the Ogiva.
Another limited edition was dedicated to Armando Simoni and was composed of three Paragon pens in saft green, burlwood and scarlet red celluloid. Only 90 pieces of this special limited editions were made.
The Paragon model was reviewed and enriched with 9 rings, one ring for each decade of activity. The finish of the limited edition was HT for the odd numbers and gold filled for the even numbers.
The nib of the 90th anniversary limited edition was a special 18 kt nb with the 90 logo.
The Armando Simoni 90th Anniversary pen set is extremely rare.
At the time, special customers could order the nibs on the three Paragons according to their fancy and this set is absolutely unique  as it is fitted with three very special nibs: the Paragon in burlwood celluloid has a BBB nib, the scarlet red Paragon has a M nib and the saft green Paragon has a F Extra Flessibile nib. A very rare combination of grades!
All the pens have the same number which is 43 and they are unused. The packaging is complete and in pristine condition.