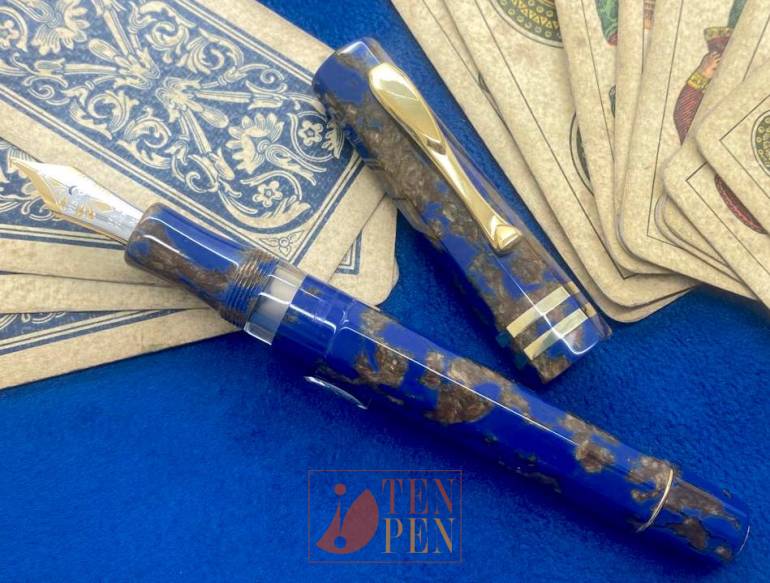 Novelli  is one of the most important  and well-renowed pen shops in Italy.
It is known and appreciated worldwide ever since its founder Augusto Novelli started to travel to attend the most important US and European pen shows.
Augusto Novelli and his wife were able to boost their family business far beyond the city of Rome. Their son Marco confirmed the family tradition as he was one of the first Italian shop owners to go online  and have a great success at international level.
Over the years Novelli commissioned a number of limited editions to the major Italian pen makers and they all were widely appreciated by the public.
In 2001 Novelli celebrated it first 50 years of activity and they commissioned Visconti with the creation of a special pen, called Augusta, to honor Augusto Novelli's activity.
The pen was manufactured in one of the most precious and desirable celluloid colors: blue and bronze, to recreate the contrast typical of lapis lazuli stones.
The celluloid used for  the Augusta is the same as the one Visconti used for the Titanic and the Didgeridoo.
https://www.tenpen.it/product/visconti-didgeridoo-prototype
This Novelli Augusta is unused and it is fitted with an M nib.
It is an assertive pen, equipped with the famous Visconti filling mechanism which guarantees a very large ink capacity. 
The pen is pre-owned but in pristine condition.