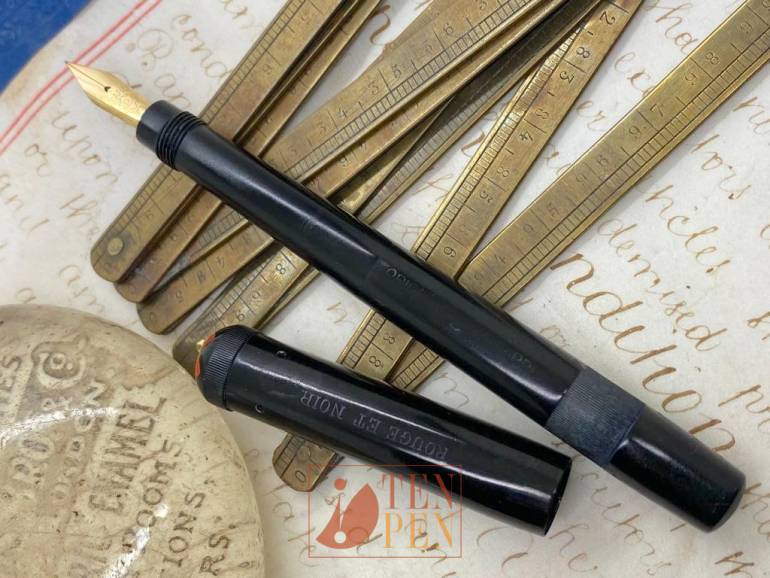 The Rouge et Noir brand was registered in Italy in the first decade of 1900.
The official Montblanc Agent for Italy was Mr. Walter Kessel.
These safety pens were exactly identical to their German counterparts but the star on their cap tops was red instead of white and the engraving on the cap read "rouge et noir". They were fitted with Simplo nibs ( they can be found with Montblanc nibs as well) and were manufactured in the same sizes as Montblanc pens;  their presence on the market lasted only for a very few years.
Very limited pieces of information exist about the development and management of the of Rouge et Noir  brand in Italy, which was actually the only place were they were marketed.
Nowadays these pens are very rare and highly desirable for most Montblanc collectors.
This Rouge et Noir safety pen is a nr. 2 short and it is fitted with a nr. 2 Montblanc nib. The engraving on the cap shows  "Rouge et Noir" on one side and "G. Gambini- Bologna" on the other side.
The Gambini shop was founded in 1912 in Bologna. It was an optician shop and at the time opticians sold not only spectacles but also pens and writing instruments.
This Rouge et Noir is in excellent condition with a very nice imprint on the cap. The imprint on the barrel is slightly worn out but it is still visible