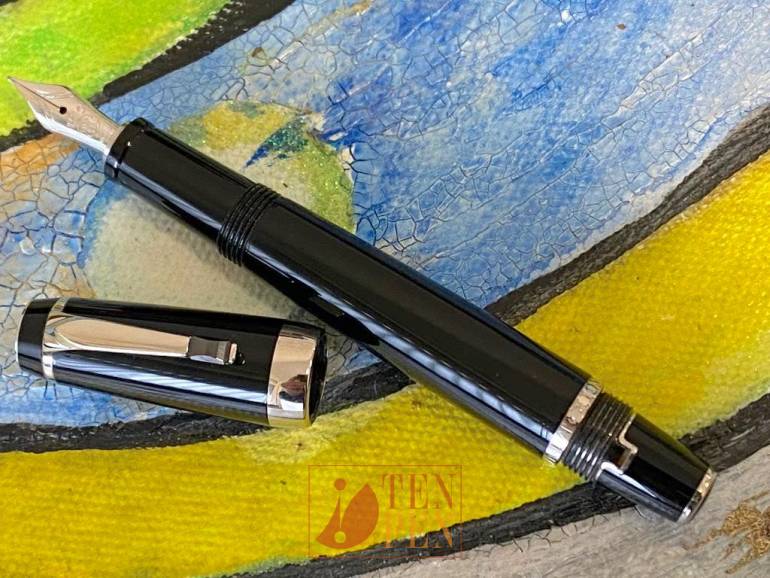 In1999 Montblanc introduced a new model which was characterized by a colorful stone on the clip. This mode was available with a red stone and was called Rouge et Noir  or with a black stone and was called Noir and Noir. This happened before the Boheme name was adopted to identify the new model. Unfortunately the brand name "Rouge et Noir" et "Noir et Noir" were covered by copyright; MontBlanc could not use them and had therefore to stop the production of these early models (the name Noir et Noir/ Rouge et Noir is engraved on the rhodiated ring at the bottom of the barrel).
These pens were however distributed to shops before they were definitely discontinued. Their presence on the market did not last longer than three months. In September 1999 Montblanc introduced the Boheme line, which replaced the "illegal" models. The engraved band on the barrel was eliminated and these models were definitely identified with the brand name Boheme.
As in a few other cases, a mistake transformed a model into a sort of mythological object of desire.
Rouge et Noir and Noir et Noir pens do not have a serial on the cap ring, they have a ring at the bottom of the barrel with the engraving of the name of the model, they do not have any ring on the section.

This Noir et Noir unfortunately is not perfect. There are a few hairline cracks at the end of the barrel. They do not interfere with the functioning of the pen, which is a cartridge filler.
It is a rare piece which can be used both as an everiday writer or to complete a series. The pen is very rare but given the condition, it is priced accordingly.