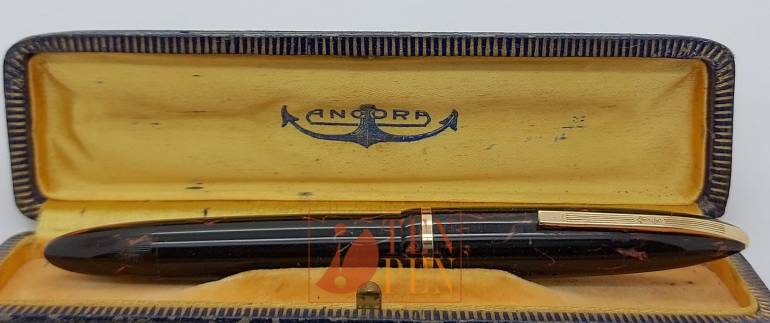 In the second half of the 1940's Ancora introduced its lines of torpedo-shaped pens which were manufactured in a variety of celluloids, including solid and transparent colors.
The torpedo shape was very fashionable at the time and these models gained a remarkable success on the market as they were very reliable writing instruments, had beautiful nibs and were marketed at affordable prices.
Nowadays they are very desirable collectible and very pleasant writers, with very high quality nibs.
This senior size torpedo-shaped Ancora piston filler is in excellent condition and it has very beautiful 14 ct flexible nib.
The celluloid is a deep burgundy with thin pinkish stripes.The pen has no damages and shows very minimal signs of use.
Te Ancora box in the pictures is not available.