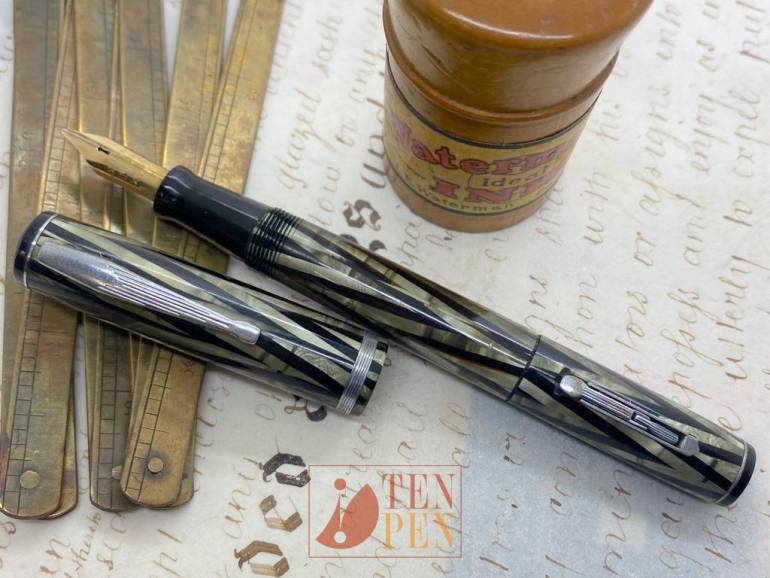 In 1929 Pelikan introduced its 100 model, which was a piston filler with a section of the barrel which is totally transparent. The success of this model paved the way for a trend towards transparency and ink visibility which becme all the rage in the very early 1930's.
Barrel transparency and technical filling mechanisms soon become highly fashionable, thus stimulating research for mechanisms which could replace traditional systems, such as button  and lever filling.
In 1933, Parker introduced the Vacumatic model, which was extremely successful and soon became a reference model for all pen makers.
Waterman had developed all his models using the side lever as filling mechanism and in 1934 offered its reply to the Vacumatic and the general trend towards transparency introducing the Ink-Vue model. Actually, placing the lever at the end of the barrel and using a semitransparent celluloid, transparency could be achieved without having to adopt  a more complex filling mechanism.
The series was marketed in three colors with a very fashionable geometric pattern: silver ray (gray), copper ray (rusty brown) and emerald ray (green): black was available, too with a geometrically decorated transparent barrel. ll colors were available both wth chrome and gold filled trim.
Early models had a metal shield as a finishof the  bottom of the barrel with Waterman's logo. Later on, a stepped finish was adopted.
This early Waterman Ink Vue Silver Ray is in excellent condition and in perfect working order. It is fitted with an original Waterman key hole nib and a feeder with a red stripe.
The nib is nicely flexible and very generous.