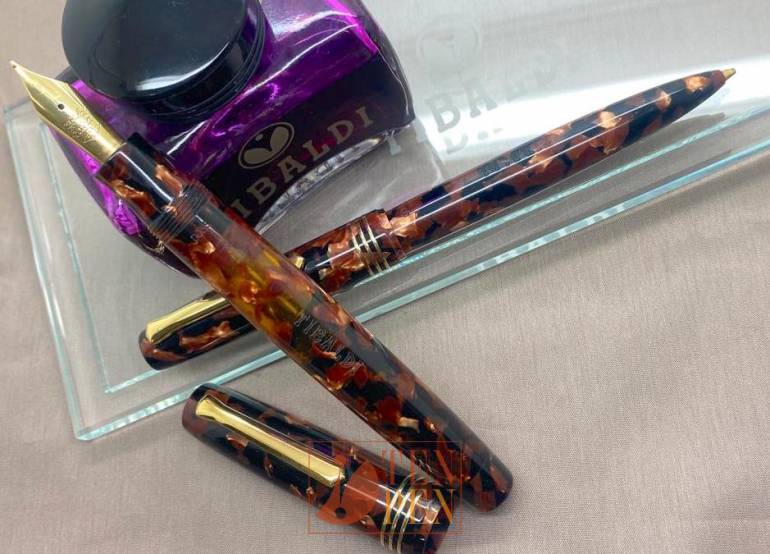 In the early 1900s the Tibaldi trademark was bought by the Finduck Company from the Pagliuca family, who had acquired it in the lte 1940's from the Tibaldi family.
I was commissioned by Finduck with the research on Giuseppe Tibaldi's life, the development of his Florentine-based pen company and the cataloguing of the wide range of models Tibadi had manufactured since its foundation in 1916.
The result was a beautiful book with the Title "Tibaldi, a Story of Fountain Pens and Men" which was published by Allemandi and then included in the presentation packaging of the modern Tibaldi Impero model.
Finduck's aim was to replicate the most fascinating TIbaldi models with a modern approach. Thus, the Modello 50 and Modello 60 were manufactured , then the Impero and finally the Iride.
They all have a connection with Tibaldi's history, be it in the design, the choice of components (clip and metal finish), the colors of celluloid and the model names.
The only exception is the Iride model, whose name derives from Iride Pagliuca. She was Remo Pagliuca's wife and she had safeguarded the entire Tibaldi Archives and stock of components in her house in Florence, after his husband's death.
Finduck meant to pay hommage to this old lady whose passion for his late husband's work had saved a piece of Italian pen history from being lost forever.
So,the model Tibaldi Iride in brown tortoise celluloid was dedicated to her.
Like other Tibaldi Models, the Iride has the typical tie-shaped clip and a generous size.
The set was sold in a precious glass case along with a bottle of Tibaldi ink.
This Iride set is pre-owned and it is in perfect working condition. The packaging is not complete, as the outer box is missing. The ink bottle is not completely full and a part of it was spilt inside the box as the cardboard support is stained.