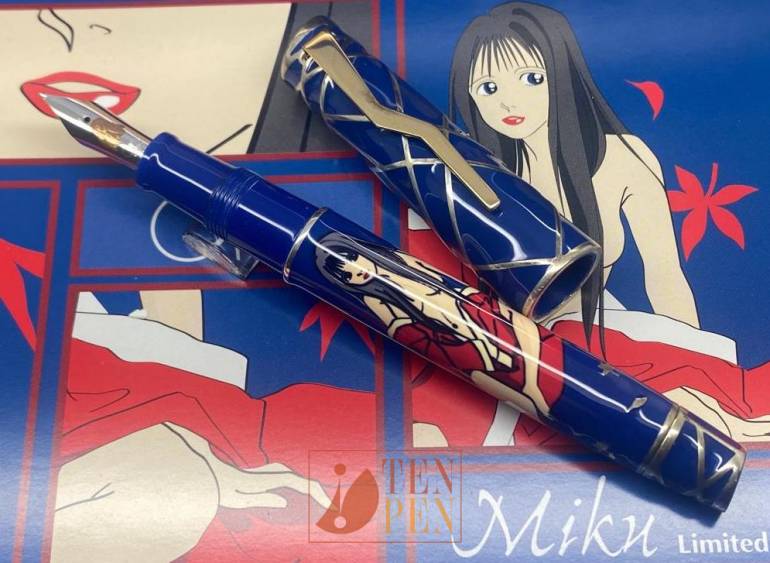 This special limited edition represents Omas tribute to the world of Japanese Manga and their specific scenario of colors and graphics and in particular to the iconic Miku Hatsune.
The name Miku refers to the young girl Miku Hatsune, the  16-year-old girl which was designed to embody the synthetizer Vocaloid2, developed in 2007 by the Japanese Crypton and Futute Media.
The name Miku Hatsune derives from the union di "hatso" (meaning first), ne (meaning sound) and miku (meaning future); it can therefore be translated as "first voice of the future".
Miku was initially just the image of the voice synthesizer, that many music creators have used to make well over 100,000 songs of their own. Her voice was developed on the basis of Saki Fujita's voice, the famous Japanese actress. 
Miku Hatsune, from Sapporo, born in 2007, soon became a celebrity: she has sold out concerts, performed with and for celebrities like Lady Gaga and Pharrell Williams, and even made an appearance on David Letterman's show. Miku has performed live many times to packed and sold-out venues from Tokyo to Los Angeles. Her live concerts involve 3D performances of her singing and dancing to her most popular songs with live musicians. 
She has gorgeous blue hair, and a long pigtail thus looking similar to Usagi from magic girl Anime Sailor Moon.  
Much like many pop artists, Miku Hatsune doesn't just sing. She's appeared or has had references in various video games. Sega has featured her in rhythm video games ever since her debut in Hatsune Miku: Project DIVA, and she's now one of the cutest Sega characters ever. She also had a Nintendo 3DS game called Hatsune Miku and Future Stars: Project Mirai.
But there is more than that, she was chosen as a representative of Japan after the 2011 tsunami. By that time, she was already a well-known character among young people, with her image appearing in music textbooks. After the earthquake, she became a mascot for Cheerful JAPAN! a fund-raising event selling special figures where part of the sales went to charities related to earthquake and tsunami relief. 
Hatsune Miku is a true icon of both Japan and Japanese technology.
Omas' creation doesn't actually represents the real Miku but a Manga character  with black hair which recalls her in a sort of erotic attitude, thus conjugating two major Japanese cultural references.
The pen was manufactured in 405 pieces only. The basis is silver with a high quality enamel decoration.
Serial number is 086/405, nib grade is M.