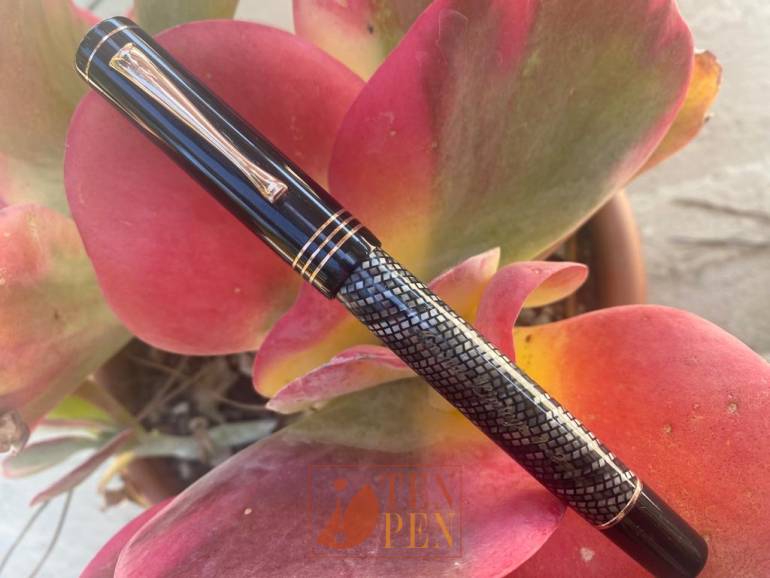 Anima Vintage is a productive project deriving from the collaboration with Sec Calligraphy by Stefano Costantini.
The idea supporting the project is to manufacture  hand made high quality fountain pens drawing inspiration from the past.The design and details of Anima Vintage fountain pens are developed with tradition as a reference.
In most cases, nibs are recycled from vintage models as the main interest is having pens which are not only beautiful and pleasant to use, but which also write well and can offer some level of flexibility.
The  series comprises pens which are simple, elegant, light in the hand and perfectly balanced, equipped with high quality vintage gold nibs.
The entire productive process of Anima Vintage pens is completed exclusively by hand making each piece unique. Each component is hand-made, finished and assembled by hand.
Like the pens of the past, Anima Vintage models are free of glue. Every pieces is assembled by thread or friction: cap bands are fitted by hand, nibs and feeders are assembled one by one and individually tested.
The filling mechanism on Anima Vintage Line models  is a push knob, very similar to the mechanism Montblanc used in the 1930's. An  ingenious ink window  recalls piston fillers from the past.
Each Anima vintage pen is individually numbered. 
The Anima Vintage series comprises three models:

Anima Vintage Line
Anima Vintage Ogiva
Anima Vintage Deco
This small edition of Anima Vintage Line comprises 4 pieces only, two in green and two in gray lizard celluloid (one gray has already been sold). Their barrels have been manufactured using celluloid rods from the 1940's while cap and knob are in black ebonite.
The pens have a  rosegold finsh and are fitted with original Rover 14 ct nibs.