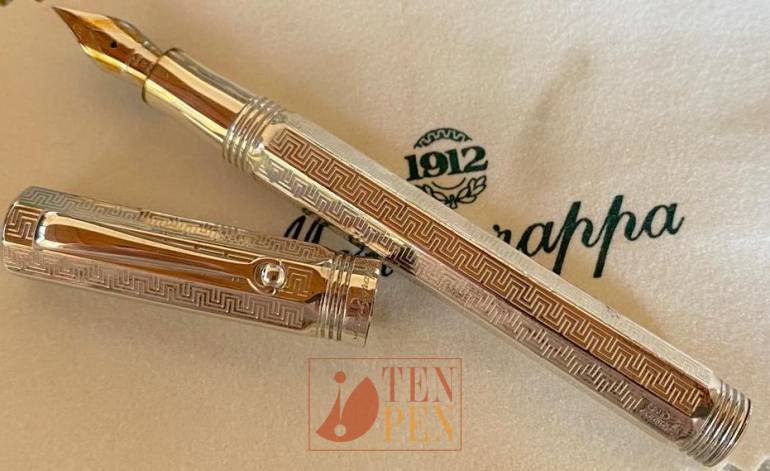 The Reminiscence line was first introduced in 1983, drawing inspiration from vintage Montegrappa models.
The first Reminiscence pens were offered in two sizes, which had the same length but different diameter.
They had an ebonite section and and an old style 14 ct gold nib. There were various finishes: plain silver, plain vermeil, silver with greek key decoration, vermeil with greek key decoration. 
Later on, round models were introduced as well as shorter ladysize models  and the range of decorations was  remarkably enlarged.
In the following years the old style 14 ct nib was substituted with a more modern  two-tone 18 ct Montegrappa nib.
The Reminiscence line was offered with a very original packaging which included a metal tube and a presentation  box.
All the pens were cartridge/converter fillers and their peculiarity was the threaded cap and barrel end so that the cap could be securely screwed onto the barrel.
The facetted Reminiscence model was used by Montegrappa in the 1990s as the basis to develop a number of limited editions, such as the 80th Anniversary, Romeo, Juliet, York, the Queen of Hearts etc.
This Montegrappa Reminiscence is the short ladysize version (11 cm). It is in excellent condition and it looks unused. The pen comes is a beautiful Montegrappa presentation box. The converter is not included.Nib grade is EF.