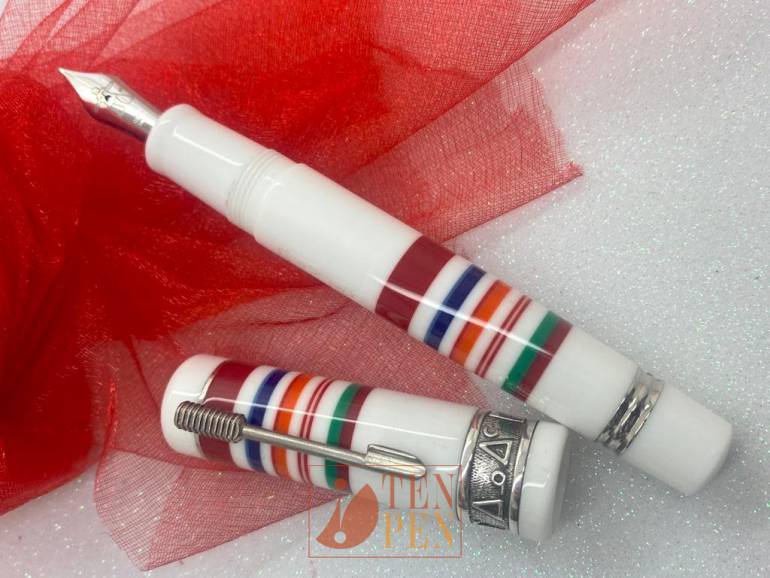 The Indigenous people collection was designed for Delta  by Architect Francesco Rienzi of Milan.
The concept at the basis of this series of pens was to celebrate all those populations whose traditions, religion and cultural heritage represent a patrimony for mankind. All the pens of the series have finishing details which make reference to each population's culture and symbology.
They were produced both with silver finish as converter fillers and with gold finish as lever fillers.
The first series was introduced in 2003. This is the sequence of production:
2003: Masai, Native Americans, Inuit
2004: Tuareg, Maori, Kossac
2005: Ainu
2006:Indios
2007:Sami
2008:Adivasi
2009 - 2010: Mapuche
2010 - 2011: Maya
2112-2013: Kanoka Maoli, Hawai
This Delta  is part of the very first production and it is dedicated to the Inuit population which inhabits Arctic and subarctic regions in Canada, Alaska, Greenland and Russia. The population has its own culture and common language ( with many dialects) and its own political structure.  
The symbology of the pen makes reference to the colors the clothes which are very bright on the white background of ice. The clip has the shape of an ice spade which the Inuits use to break ice and che cap band is decorated with their name and symbols.
On the cap and the nib there is the shape of an Inukshut, a traditional stone construction resembling a person. These stone sculptures are used by the Inuits as a point of reference and as a marker for hunting grounds.
This pen is unused and it is fitted with a 18 ct gold nib, grade F.