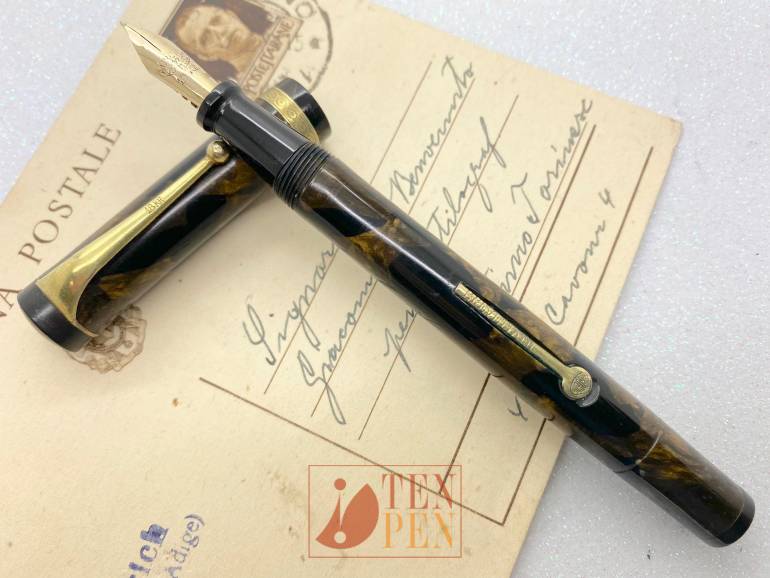 In 1927's, when Aurora introduced the Duplex model, the fountain pen market was heavily influenced by the worldwide success of the Duofold model by Parker.
Most pen makers at the time drew inspiration from the design of that model which was supported by huge advertising campaigns both in the USA and in Europe.
Aurora followed the trend and designed its new lines of celluloid lever fillers with the Duofold line as a reference. Aurora went anyway further and instead of copying the Duofold, as many other pen makers were doing, it chose to approach the model with innovation and creativity. 
Aurora remodelled the design of the clip, which retained the classical ball at the end but  became very wide at the top with a soft curvy line, thus acquiring a peculiar elegance which soon became a distinctive feature of the new Duplex line. Later on, the clip  was further enriched with the addition of a refined Art Nouveau floral decoration and a filigree band which made it look even richer.
Aurora Duplex models are thinner than Parker Duofolds thus resulting very elegant and slender. 
Aurora  Duplex is a superb model which is still one of the most elegant and fascinating pens ever produced in Italy.
It was manufactured in three sizes and fitted with high quality 14 ct gold nibs.
The rich clip was reserved to senior size models. Medium sized models could be fitted with a geometrically decorated cap band.
This Aurora Duplex is a medium size in black and bronze celluloid with a decrated cap band and a very rare 2 1/2 nib without vent hole.