IS IT A FAKE?
A visual comparison to check wether you are buying a fake Montblanc Boheme ball pen.
Some weeks ago I found a fake Montblanc Boheme ball pen and a real one in a small collection.
I thought it was very lucky to have them together, so that I could make a detailed comparison.
The fake pen may not be immediately recognizable for anybody who has never had the opportunity to handle a real one.
I hope that this easy visual comparison will help users and collectors not to be fooled by sellers who offer cheap Chinese replicas at very affordable prices.
Length and girth:
Both the fake ( gold filled finish) and the real one (Platinum finish) have the same length and the same girth.
Cap band and clip:
The cap band and the clip in the fake pen are much rougher than in the real one. The finish is approximate and cheap. The clip is slightly wider than the real one.
The cap band has sharp corners on the fake pen while it is smooth and refined on the real Montblanc.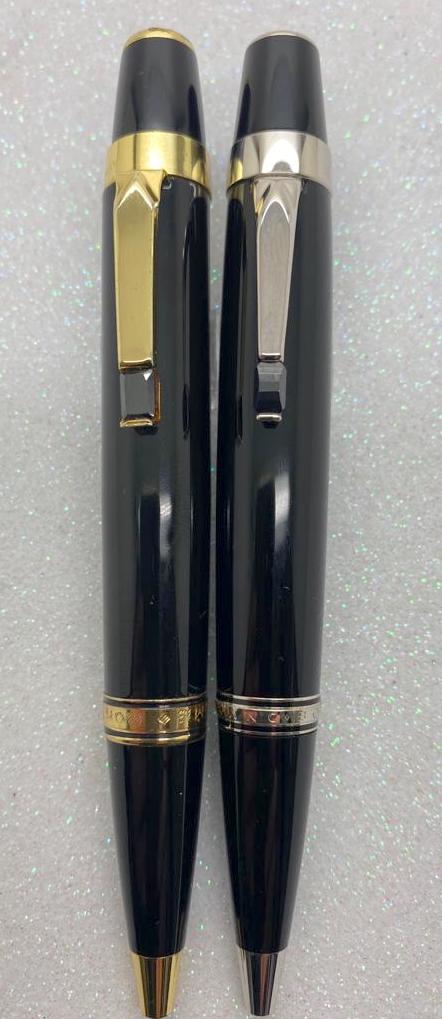 The stone:
On the real one the black stone is facetted and perfectly set in the clip; the stone of the fake pen is set askew and has very rough sides.
Barrel band and rings:
On the real one the central band on the barrel is smooth and placed  between two very thin rings. The word Montblanc is  engraved in very clean capital letters.
On the fake pen, the central band is  thicker, with the word Montblanc which can be read upside down and written with small engraved lines which recall the style of vintage cap bands. The two rings are very thick and of different size.