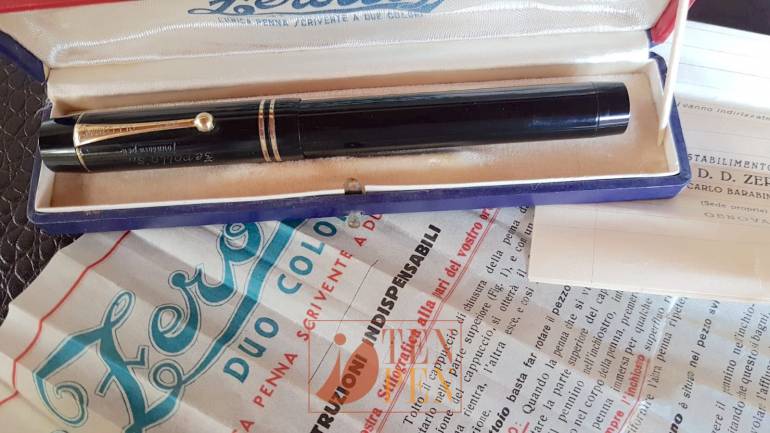 Zerollo pens were designed, patented and manufactured by Mr. Dante Davide Zerollo in Genua. These pens are probably the most complicated writing instruments on the Italian scenario.
They have two nibs and two ink reservoirs and were designed to be filled with blue and red ink separately for accounting purposes.
They were produced in two sizes and in a wide range of colors: jade green, marbled blue, burgundy, gray/ blue arco and black.
The early black Zerollos were manufactured in ebonite.
This Zerollo pens is unused  and it has never been filled. The sliding mechanism which controls the movement of the two nibs is perfectly functional.
The filling mechanism has not been restored; to replace the two ink sacs you must remove two tiny screws which keep them in place and they very often get ruined, so I decided not to risk.
The pen comes with its original presentation box (  it has a small damage on the lid) and the complete documentation which was part of every Zerollo pen.
It is a precious, highly collectible fountain pen for every specialized collector of Italian high quality pens.